ZipGrade is indeed a popular and highly watched grading app for teachers. It simplifies the grading process by allowing teachers to quickly and accurately grade multiple-choice assessments using their mobile devices. Scoring papers can be a difficult and time-consuming job for educators. Nevertheless, thanks to technology, marking has become less burdensome. One such app that has revolutionized the way teachers grade papers is ZipGrade. It is a mobile app that allows teachers to grade multiple-choice tests quickly and accurately. Here is detail on the features of ZipGrade and why it is the best grading app for teachers.
Easy to Use
Grading becomes a breeze with ZipGrade. Its design is essentially user-friendly, accommodating even those who are not efficient in computer to use it efficiently and productively, freeing up countless teaching hours. Getting started on the app requires a straightforward process of downloading it onto your mobile device and setting up an account. From there, you can conveniently create tests and grade students' assignments instantly. It's an invaluable resource that updates assessment while maintaining accuracy for educators who value their time.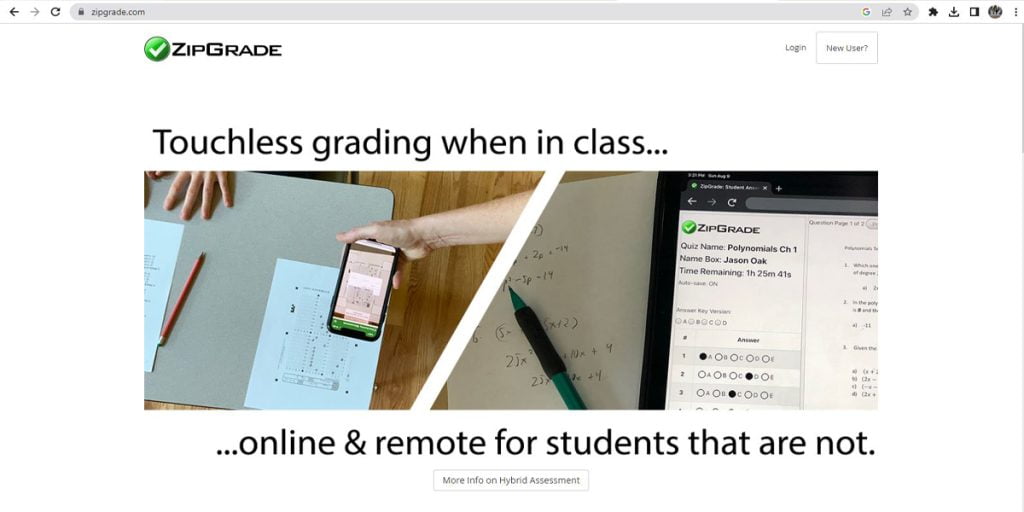 Accurate Grading
The use of the app as a grading helper is a ground-breaking method that employs optical mark recognition (OMR) technology to rapidly and precisely evaluate papers. This modern system ensures an accuracy level of nearly 99%, which means there won't be any possibility for human error or imprecision when calculating grades. By implementing this resourceful technological tool, educators don't have to be worried about errors while recording test results, ultimately leading to more concentration on teaching and learning processes.
Instant Feedback
It is an exceptional application for grading tests, which can simplify the lives of educators and learners. A remarkable benefit offered by ZipGrade is its ability to offer rapid feedback to both parties once a test has been graded. This informative feedback includes details on the student's score, percentage of correct responses, as well as incorrect ones. Students' performance report shared after the exam enables them to understand their mistakes and work towards better academic performance through improvement in studies.
Customizable Reports
The process of generating accurate and personalized reports for parent-teacher conferences or progress reports has been made extremely simple by ZipGrade. In just a few quick steps, teachers can input the necessary details such as student's name, grade level, and other required information to generate wide-ranging and adaptable reports. These detailed assessments can be easily shared with parents or students during meetings, enabling teachers to efficiently modernise the reporting process.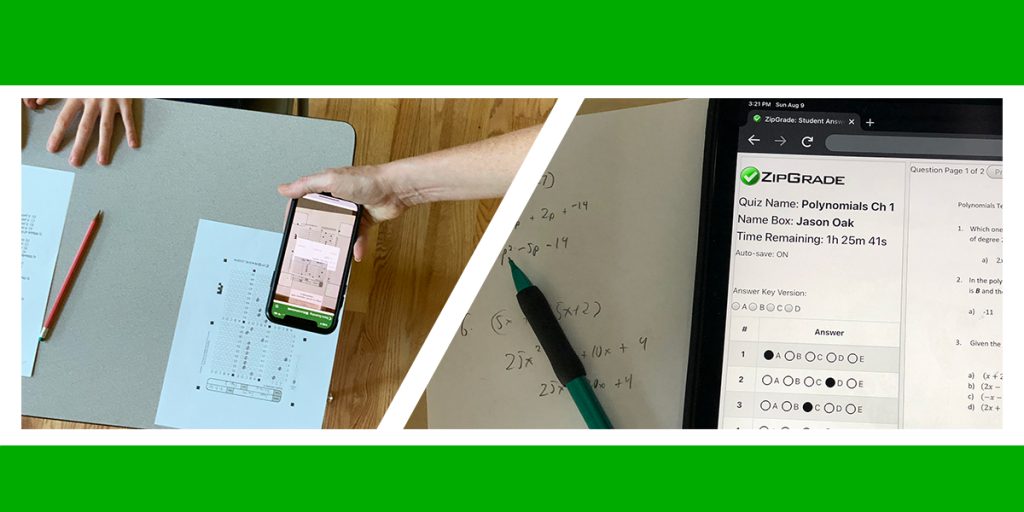 Gradebook Integration
The mobile grading app ZipGrade offers a user-friendly interface that transforms the traditional method of grading and submitting student assignments. This innovative technology flawlessly integrates with well-known gradebook platforms including Schoology and Google Classroom, enabling teachers to effortlessly import grades from this software into their existing gradebooks without having to input data manually. Thanks to this seamless incorporation, educators can now save valuable time and effort whilst keeping track of students' progress in an organized manner with precise records.
Data Security and Privacy
The security and privacy of student and teacher information is a top priority for ZipGrade. Personal identifying data is not stored by the app on its servers, but rather it briefly holds onto answer sheet images to ensure precise grading. Teachers worldwide consider it an invaluable tool due to their dedication to safeguarding sensitive information.
Detailed Analytics
To assist educators with understanding student progress, ZipGrade provides a collection of analytics and reports. The detailed data provided can be utilized for assessing individual and group performance. Analyzing specific questions and items, as well as identifying areas where additional support may be needed or where students are excelling beyond anticipated levels. Armed with this knowledge, teachers can more accurately focus on the required instruction to lead their students towards success.
Log in to ZipGrade
This software is an excellent tool for teachers to save time. It's easy to access by searching for this in either the App Store or Google Play Store. Only the device you are using is the causal reason. Once downloaded and installed, you can take advantage of its efficient grading system, making previously troublesome grading tasks effortless and speedy.
To initiate the ZipGrade application, simply tap on the software icon after it has been installed.
You have the choice to either sign in or register for an account on the ZipGrade login interface. In case you possess an existing account, simply input the email address and password linked to it, and then click on "Sign In."
If you're new to the website. Tap on the "Create Account" button. Then provide your email address and create a password. After that, complete the registration process.
As a new user, you will receive an email from ZipGrade to verify your email address that you used during the registration. Kindly check your inbox and adhere to the instructions given in order to complete the verification process. After completing this step, you can log in successfully.
Once you have registered or logged in and confirmed your email address (if necessary), provide your email and password on the software's authentication page.
After providing your login information, click the "Sign In" option to access your account.
If you face any troubles while logging in or can't remember your password, simply press the "Forgot Password?" hyperlink available on the sign-in page and adhere to the guidelines given to set a new password.
It should be remembered that for accessing data in ZipGrade, you must have a working internet connection. It's vital to ensure that your internet connectivity is reliable while you are logging in and utilizing the application.
Conclusion
ZipGrade is an efficient grading application that empowers teachers with essential tools for precise grading of papers. This app includes various beneficial features such as immediate feedback, adaptable reports, and a user-friendly interface designed to help educators grade quickly without compromising accuracy. Using ZipGrade can save teachers significant time in the paper-grading process, freeing up more time to create captivating lessons or interact closely with their students. If you are seeking an effective solution for grading purposes, choosing this software would be a wise decision.